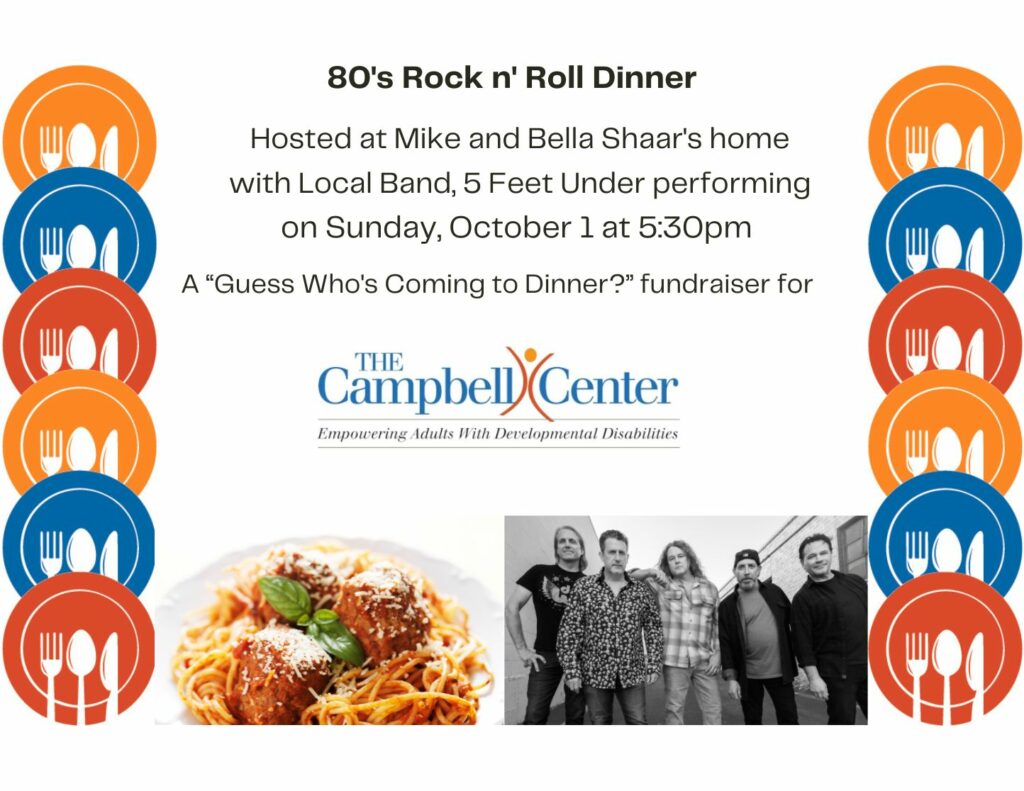 Are you ready to rock?! Get your tickets today for a retro 80's Rock n' Roll night, one of our 5 exciting "Guess Who's Coming to Dinner?" events. The Moonlight, Magic and Margaritas dinner has already sold out!
80's Rock n' Roll Dinner- hosted by Mike and Bella Shaar will start with a social hour at 5:30 pm, and Tito's Berry Lemonade Cocktails being served from their bar. Enjoy a mouth-watering dinner of pasta and caesar salad as the sun sets, before the band kicks off at 7:30 pm. Local favorite, 5 Feet Under, will perform covers of top artists like Van Halen, Guns and Roses, and Twisted Sister. Click here for tickets to 80's Rock n' Roll Dinner
Major supporters of The Campbell Center are hosting 5 dinners serving a variety of cuisines and entertainment over the weekend of September 30th and October 1st to help raise funds for our residential programs. ​​​​​​​Your support is needed more than ever, as we are making improvements to our homes to improve their accessablity for years to come.
For more information about the event, contact Jennifer Haake at 818-242-7588, or email jennifer@thecampbell.org. Pick a host, theme and cuisine you want to try. If you can't choose, go both Saturday and Sunday nights! As dinners sell out, this page will be updated.